Electrical Services for Duplex Houses in Dallas & Irving, TX
Electricity is one of the most essential parts of contemporary life, energizing lights, appliances, heat, air conditioning, televisions, telephones, computers, and many other modern conveniences. If you are seeking a reliable electrical contractor to design, plan, and install electrical service at your duplex, then please get in touch with Cano Electric so we can help you with our professional service and high standards. We work for electric facilities installation, repairing, and maintenance in Dallas, TX.
We are pleased to offer a bespoke design service to our clients. Our experienced team is well equipped to assess the needs of our clients and implement state-of-the-art designs to meet the requirements of the end-user. If our designs need any modification, we will readily alter them until our client is entirely happy with the functionality and suitability. Call us at 817-242-2826 today to know about our electric service in a duplex house with get an estimate.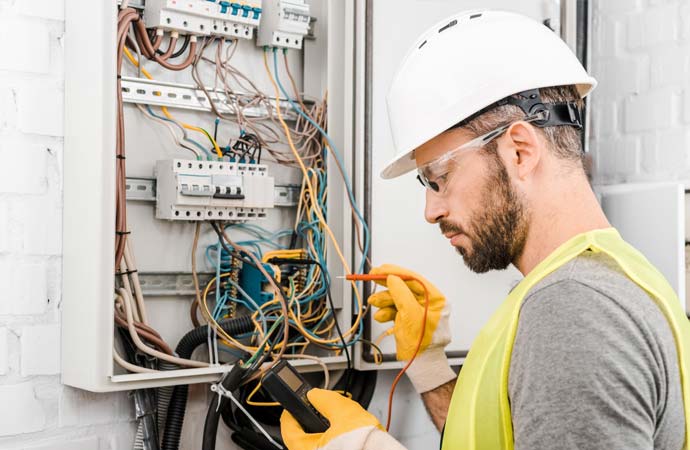 Trusted Electrical Services by Cano Electric
We care about doing the work right the first time over and above your expectations. Our reliable electricians also will explain to you what work they will do and how much it will cost before they start working on fixing the electrical problems you are having at your duplex house.
If the estimate changes to provide you the best quality service, you'll be the first to know. When you have an electrical emergency, you can call us any time to keep your family and employees safe no matter where you are in Addison, Barker, Celina, Irving, La Porte, Weston, and other cities we serve in Texas.
Rely On Us for Electrical Service at Your Duplex in Dallas, Fort Worth, & Plano, TX
Whether you have flickering lights or an outdoor light that won't work, our experts can fulfill your electrical needs. Our fully stocked service vehicles make it easy for us to take care of electrical repair calls quickly and efficiently. You can have peace of mind knowing you will receive fast, professional service from a qualified electrician when you choose Cano Electric for your duplex electricity needs. At Cano Electric, we handle wiring, security lighting, landscape lighting, panel upgrades, and more. You can count on us for surge suppression, commercial generator, electrical troubleshooting & repair, ceiling fan installation, and pool light repair and installation as well. When you need our help, please call 817-242-2826 today for more information or click here to make an appointment!
Have a question about our services or how we can help with your electrical needs?
Cano Electric Services Dallas/Fort Worth & Houston