Security Lights Installation and Repair in DFW & Houston
Intruders are deterred from making an unwelcome visit to your premises through security lights. Efficient security lighting enhances the protection of your staff and clients, and it will help protect your inventory at night.
Cano Electric will assist you in selecting the best configuration & installation of security lighting to keep your company or home safe and stable in Dallas-Fort Worth and Houston. Call at 817-242-2826 today to know more about the service with an estimate.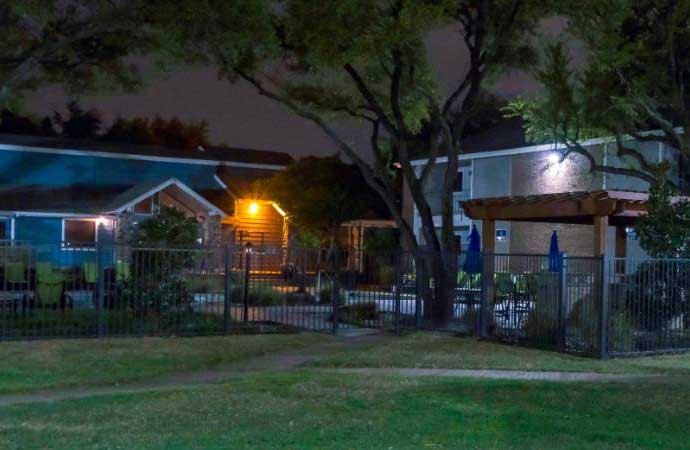 Superior Security Lights Installation by Cano
Our specialist team will install security lights in your home. We may add indoor and outdoor motion-activated security lights, time- and light-sensitive security lighting, solar security lighting, or LED/halogen floodlights to illuminate entryways and exits.
The total security of your building can be decided by the lighting you choose. Our teams will assist you in choosing lights that will provide sufficient lighting to the most vulnerable areas of your company. We are experts at using illumination to avoid illegal access into your property by burglars and robbers.
We will also incorporate security lighting with your security system so that any camera catches a clear view of anyone who comes and goes throughout the day. We service customers in Allen, Baytown, Celina, Dallas, La Porte, and other Texas cities.
Rely on Cano Electric for the Best Security Lights Installation & Repair in DFW & Houston
Cano Electric offers the best available outdoor security lights and services to residential and industrial customers in DFW & Houston. Since 2009, we have created remarkable lighting solutions that are expertly engineered to enhance outdoor living spaces and provide enhanced protection of your home or office. When it comes to protecting your home and your wellbeing, adding home security lighting to an installed alarm system or a modern home control system will only bring value and peace of mind. Cano Electric also offers Surge Suppression, Commercial Generator Services, Electrical Troubleshooting & Repair, Ceiling Fan Installation, and more. Call us at 817-242-2826 for more information or get an estimate to make an appointment.
Have a question about our services or how we can help with your electrical needs?
Cano Electric Services Dallas/Fort Worth & Houston