Exterior Lighting Installation and Repair in DFW & Houston
Exterior lighting adds a touch of elegance, as well as an additional layer of security, anywhere it is installed in Dallas-Fort Worth & Houston. At Cano Electric, we provide the best exterior lighting installation and repair services for home security and safety.
Our technicians at Cano Electric have the know-how of master electricians & the creativity of lighting architects. Call us today at 817-242-2826 to know more about our service with an estimate.
Your Best Exterior Lighting Option in Dallas-Fort Worth & Houston
When it comes to improving your current outdoor lighting, Cano Electric is ready to partner on your exterior lighting concept to help you create a welcoming environment. Although simple exterior lighting can be used to make a route more available, collaborating with Cano Electric to develop a lighting concept can turn your current yard into a showplace.
When you want a gorgeous yard that is highlighted by exterior lighting, contact Cano Electric to see how your yard can be transformed into an impressive display. Installing lights for your yard's exterior needs the help of a specialist if you want it to look good. Cano Electric will partner with you to create a concept that you will enjoy for your house. You will work together to create a schedule that is appropriate for your home and your budget.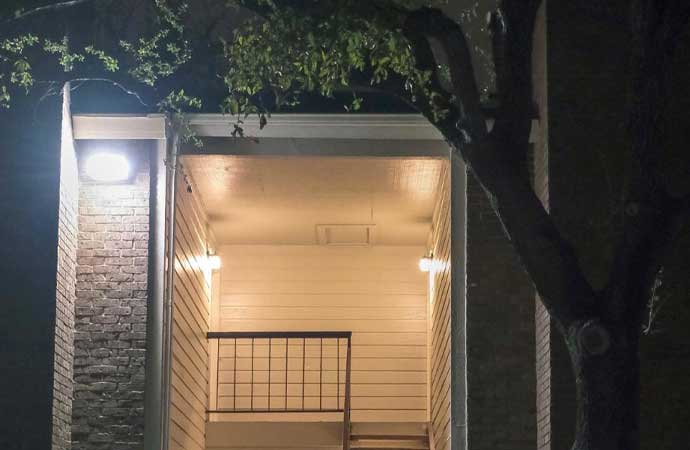 Our electricians will inspect your electrical supply before adding your new lights. We'll look at the earthing and polarity of the circuit(s) that will be used. And we'll mount it safely to meet your specifications.
Let Cano Improve Your Exterior Lighting Options
At
 Cano Electric,
we can improve your exterior look with:
Wall Lights
Garage Lights
Flood Lights
Garden Lights
Pool Lights
Walkway Lights
Low Voltage Lights
Entrance & Exit Lights
Fountain & Waterfall Lights
Steps & Stairs Lights
Custom Designed Lights
We serve customers in Addison, Allen, Celina, Irving, La Porte, Murphy, and other Texas cities.
Rely on Cano Electric for the Best Exterior Lighting Options in DFW & Houston
When one of our technicians receives a message, they will arrange a visit to your property at a time and date that is convenient for you. We are happy to provide you with a concept strategy that meets your needs, whether you want our exterior lighting items for added protection, entertainment, or relaxation.
We have the right configuration for every kind of lighting device you are looking for! We will evaluate your property and work with you to build a beautiful and practical space. Proper outdoor lighting systems increase the protection and protection of your home. They will create a lovely atmosphere for entertaining visitors on our outdoor patio with the aid of stylish lighting. And they boost the value of your home.
We also provide services for Surge Suppression, Commercial Generator, Electrical Troubleshooting & Repair, Ceiling Fan Installation, and more. Give us a call at 817-242-2826 for more information or click here to make an appointment today!
Have a question about our services or how we can help with your electrical needs?
Cano Electric Services Dallas/Fort Worth & Houston