Point-to-Point Wiring Services in Houston, Dallas, & Fort Worth, TX
Point-to-point wiring is a method of connecting electronic components directly to a tube pin, solder lug, or jack in a microphone, preamp, amplifier, or any other piece of equipment. Point-to-point circuit board wiring is ideal when building a prototype or a customized, one-of-a-kind board.
A point-to-point circuit board, which in essence is a hand-wired board, has less capacity between conductors because the connections are separated by air (not by fiberglass as in the printed circuit board). We have expert electricians to accomplish all point-to-point wiring services for our customers in Dallas, Fort Worth, and Houston. Call us today at 817-242-2826 to know more about our service with an estimate!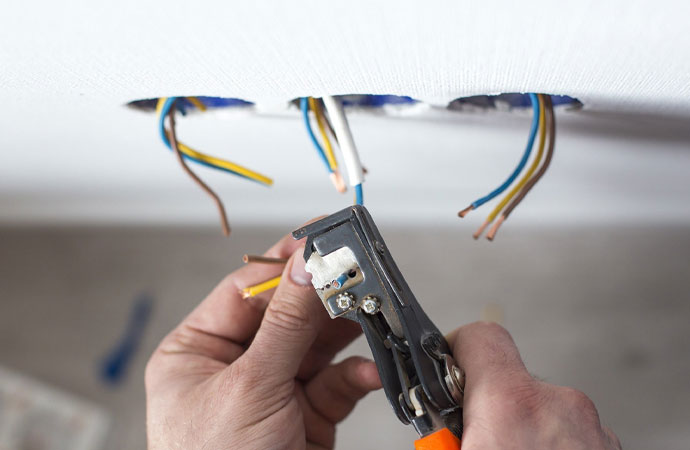 Benefits of Point-to-Point Wiring by Cano Electric
You can maintain the point-to-point wiring much more easily. You can simply see the signal path and often component spacing is less fiddle. Potential advantages in point-to-point wiring design are often easier to make robust circuits.
Safety in Industry: With government regulations, consumer demand, and global competition on the rise, companies are forced to utilize the most cost-effective, efficient means of operating their production facilities. With point to point wiring system, industrial safety can be ensured. While operational efficiency is a concern for any business, manufacturing and process control systems through point-to-point wiring are required for accurate and reliable transmission of data from sensors and control devices on the plant floor to processes across the entire manufacturing enterprise. This reliability is most important when the safety of human life is at stake. Safety is and will continue to be a topic first and foremost for operational engineers and plant managers throughout the world.
Workplace Safety: In order to control electrical hazards, a safe work environment is created by point-to-point wiring which eventually controls contact with electrical voltages and the currents they can cause. Electrical currents need to be controlled so they do not pass through the body. In addition to preventing shocks, a safe work environment reduces the chance of fires, burns, and falls.
Let Cano Build Your Reliable Point-to-Point Wiring System in Dallas & Fort Worth
Point-to-point wiring provides a myriad of benefits. Beyond the system's superior flexibility, point-to-point wiring offers a long-lasting technology, which is built to evolve alongside the company. Even if you undergo a sudden surge of growth, a structured system can keep pace with your needs. At Cano Electric, our team installs & repairs lots of point-to-point wiring systems. We also can help with services for Surge Suppression, Commercial Generator Installation & Repair, Electrical Troubleshooting & Repair, and more. When you need our help in Addison, Irving, La Porte, and other cities we serve in the DFW and Houston markets, give us a call at 817-242-2826 to know more or click here to schedule an estimatet today!
Have a question about our services or how we can help with your electrical needs?
Cano Electric Services Dallas/Fort Worth & Houston