Plugs & Switches Installation in Dallas, Fort Worth, & Houston
When it comes to the electrical wiring of your home, it can be extremely dangerous if not installed properly. That is why it is always recommended to hire a professional electrician for any electrical wiring needs you have, including installing electrical plugs and switches. At Cano Electric, our team of professionally trained and electricians has the knowledge and experience to safely install & repair any electrical plugs and switches with precision and ease.
For more than a decade, the electrical experts at Cano Electric have set the industry standard for making safe & proper repairs to wiring, plugs, and switches. Our certified craftsmen are able to safely and properly install new light fixtures, plugs, switches, and electrical outlets. We work with all makes and models, and no job is too large or small for our team. Our service area includes Alief, LaPorte, Justin, and other cities that we serve in both the Dallas-Fort Worth and Houston metropolitan areas. For more information, call 817-242-2826 or click here to make an estimate.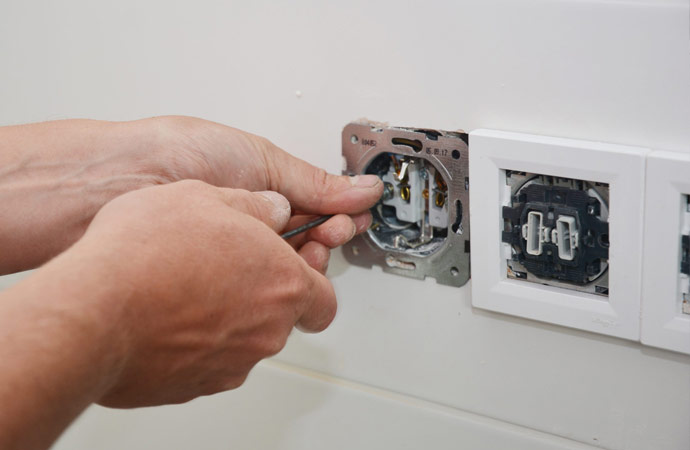 Why Choose Us for Plugs and Switches?
Our electricians have been highly trained and have the tools necessary to ensure that your home's switches and sockets are in good condition. Properly repairing and installing electrical components is necessary to prevent a problem that could lead to a fire or injury, and your safety is important to us at Cano Electric. We can even help with specialty sockets, including 220-volt lines for large appliances, switches with advanced functions, and sockets designed to accommodate USB ports or data inputs.
Our extensive service area allows us to meet the needs of customers in both the Dallas-Fort Worth Metroplex as well as the Greeter Houston area. When you need our help in Addison, Barker, Celina, or any other cities that we serve, be sure to call 817-242-2826 for more information or click here to make an estimate. Our IICRC-certified crews are available to help on a 24/7/365 basis. 
Trust Cano Electric to Install Your Plugs and Switches in Frisco, Plano, Kingwood, and Seabrook
We take pride in our workmanship at Cano Electric and want you to recommend our services to your family and friends. We care about doing the work right the first time over while meeting and exceeding your expectations. Our professional electricians can handle all of your plugs & switches installation, as well as other needs such as electrical troubleshooting, ceiling fan installation, or breaker panel replacement. When you need our help in DFW or Houston, be sure to reach out to us at 817-242-2826 or you can click here to make an estimate.
Have a question about our services or how we can help with your electrical needs?
Cano Electric Services Dallas/Fort Worth & Houston