Main Circuit Breaker Installation & Maintenance in Dallas-Fort Worth & Houston
A circuit breaker is an automatically operated electrical switch designed to protect an electrical circuit from damage caused by excess current from an overload or short circuit. Its basic function is to interrupt current flow after a fault is detected.
Generally, electrical panels are packed with circuit breakers, which span the length of the service panel from top to bottom. However, there is a single bigger circuit breaker that sits above both rows of branch circuit breakers. This large circuit breaker is known as the main circuit breaker, and it plays a crucial role in the electrical system by offering the means of disconnecting power to the entire panel and shutting off power to the entire house.
If you need a new main circuit breaker installed or an existing main circuit breaker repaired, professionals at Cano Electric will make that happen quickly, efficiently, and at a customer-friendly price for our customers in Dallas, Fort Worth, Houston, and other cities that we serve. Call us today at 817-242-2826 to know more about our service with an estimate.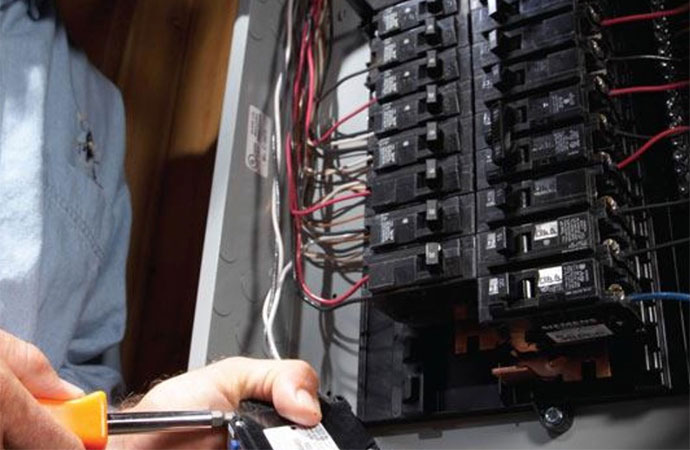 Addressing Main Circuit Breaker (MCB) Maintenance in Dallas & Houston, TX
Branch circuit breakers are designed to shut off power to individual circuits if they overload by trying to draw more power than the wires can safely handle, and the main circuit breaker is much the same. The main breaker shuts off power to the entire house if the overall load demand grows too high or if there is another serious problem in the electrical system. Hence, the importance of main circuit breaker maintenance cannot be overstated.
Circuit breakers that fail to trip properly during a faulted condition can cause fires, equipment damage, and increased Arc Flash Hazards to workers performing electrical maintenance or operations. The main breaker also provides the means of shutting off power to the entire house if you need to do some major work on the system. Electric transmission system breakups and equipment destruction can occur if a circuit breaker fails to operate because of a lack of preventive maintenance.
Rely on Cano Electric for MCB Installation & Maintenance in Dallas, Fort Worth, & Houston
At Cano Electric, our team also handles main circuit breaker repairs of all types. We also can help with services for Surge Suppression, Commercial Generator Installation & Repair, Electrical Troubleshooting & Repair, Ceiling Fan Installation, landscape lighting repair and installation, GFCI Repair, Outlets & Circuits Installation, and more. When you need our help in Addison, Irving, La Porte, and other cities we serve in the DFW and Houston markets, give us a call at 817-242-2826 to know more or click here to schedule an estimate today!
Have a question about our services or how we can help with your electrical needs?
Cano Electric Services Dallas/Fort Worth & Houston