Expert Pool Lighting Installed | Upgraded in Houston, D/FW & Corpus Christi
Pool owners know good underwater lighting can enhance or add ambiance to their backyard oasis. Professional pool lighting makes a pool more attractive to potential home buyers and makes the pool experience more exciting. The value and elegance of good lighting is crucial to keep a pool from detracting overall from the home.
Updating a pool can be as simple as landscaping or plants, fresh paint, or simply new lights to brighten the space and add backyard appeal. Cano Electric has a wide range of pool lighting designs, colors and options for your backyard or multi-family residential showplace!
Brighten up your summer nights and pool parties with new or updated pool lighting. Give Cano Electric a call at 817-242-2826 for pool lighting installations or upgrades, and ask about our estimates.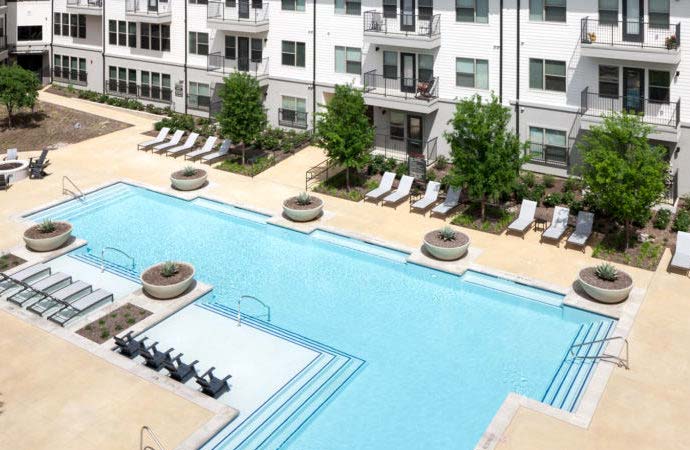 Pool Lights by Cano Electric Enhance Your Pool Experience
Swimming pool lights are recessed lighting fixtures encased in a large Plexiglas or an acrylic-based cover with a metal ring that forms a tight seal to prevent water from leaking in and shorting out the light circuit. They were created to enhance the ambiance of any night swimming or pool events, as opposed to swimming in pitch dark or with available home exterior lighting.
Types of Pool Lights Installed by Cano Electric
From easy lamps to energy-saving bulbs to full systems, Cano Electric installs these:
Incandescent: Older generation lighting that remains reliable at lower cost.
LED: Uses less energy with a Light-Emitting Diode (LED). Produces less heat to save energy, up to 85 percent less electricity. Single or multi-color.
RGB LED: Aesthetic lighting that enhances landscaping, can provide light shows or color-changing effects that can be programmed manually and remote-controlled.
Halogen Pool Lights: Brighter than LED, cost less, most popular before LED lights came into vogue. Most "bang" for pool lighting buck.
Fiberoptic Pool Lights: A simple solution to the headache of adjusting bulbs. This lighting and its power source are above water.
Cano Electric is Your Pool Lighting Expert in Houston, D/FW and Corpus Christi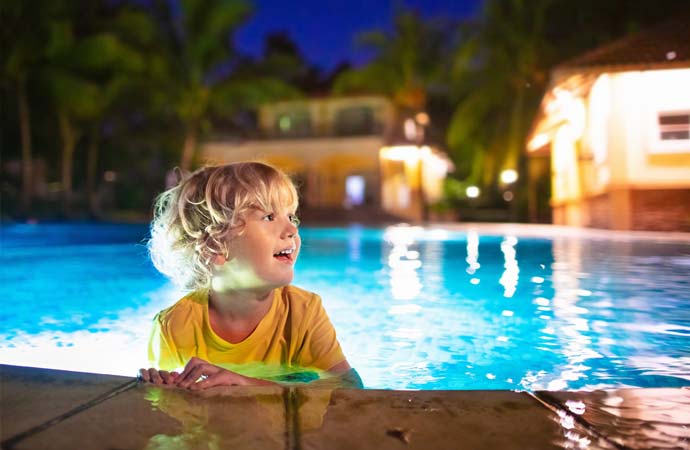 At Cano Electric, we'll make your pool lighting installation fast, economical, and efficient. We can install or restore pool or landscape lights, replace parts, or perform LED maintenance. Our electricians are among the best in Texas!
We back our work with a 120-day labor warranty, correcting any issue at no cost. We strive for total customer satisfaction and pledge that all installations or repairs will be performed correctly on our first work visit or appointment.
Benefits of Pool Light Installation & Updates by Cano Electric
Improve Overall Appearance
Increase Safety of Pool
Highlight Specific Features
LED Swimming Pool Lights Use Less Energy
We also provide service in Addison, Allen, Barker, Baytown, Celina, Dallas, Everman, Highlands, Irving, Justin, La Porte, Murphy, Weston and all over the Houston, Dallas-Fort Worth and Corpus Christi service areas. 
Contact Cano Electric for Pool Lighting Installation or Updates in Houston, D/FW and Corpus Christi
Make plans to use your pool after the sun sets with new pool lighting. We also offer surge suppression, commercial generator, electrical troubleshooting & repair, and ceiling fan installation services. To schedule an appointment, contact Cano Electric online or call 817-242-2826.
Have a question about our services or how we can help with your electrical needs?
Cano Electric Services Dallas/Fort Worth & Houston