Electrical Safety Inspection & Commercial Surge Suppressor in Dallas
An electrical safety inspection examines your complete electrical system to ensure that all electrical cables, systems, and components (such as appliances) satisfy legal safety requirements. Having your electrical wiring inspected is essential to keep your home safe from electrical hazards.
An electrical safety inspection also will let you know if you need a commercial surge suppressor to keep your power in check at your home or office. Therefore, electrical safety inspection should be a top priority in your home.
The certified experts from Cano Electric will provide a thorough, prioritized checklist following the conclusion of your electrical safety inspection, which will include areas that require immediate attention, recommendations for improvements, and prospective upgrade options for your property in Dallas, Fort Worth, Houston, and other cities that we serve. Call us today at 817-242-2826 to know more about our service with an estimate.
Benefits of Regular Electrical Safety Inspections by Cano Electric
An electrical safety inspection may safeguard you and your house or office in a variety of ways that you may not have considered: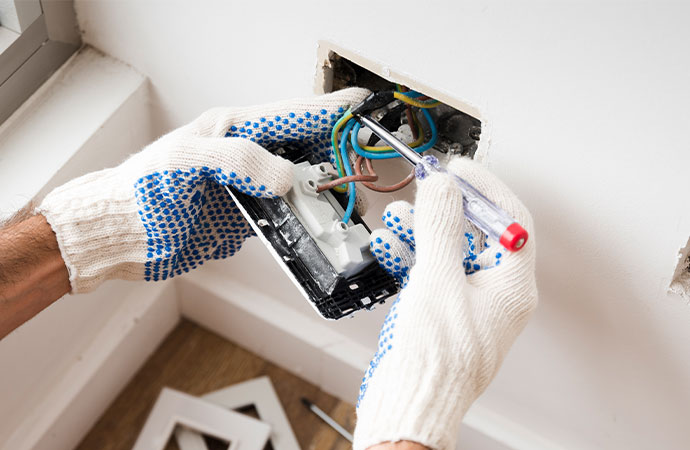 Electrical Fire Protection for Your Home: Electrical fires are one of the most dangerous electrical hazards both in the residence and workplace. Old wiring, poor DIY electrical repairs, overloaded circuits, and other dangers can all contribute to these types of fires. These hazards can be discovered when you use one of Cano Electric's numerous domestic electrical services, such as our home electrical safety check. If a problem is discovered during our electrician's assessment of your home's or workplace electrical system, they will provide suggestions to fix the problem.
Personal Safety: While defective electrical systems raise the risk of fire on your property, they can also pose a risk of electric shock to you, your family, employees, or customers. Electrical overloading, defective outlets, wiring, or whatever the situation may be, it is important to detect these problems before anybody is injured. Regular inspections can keep these issues from becoming a reality. In addition, having healthy wiring will help keep your home safe and secure during severe weather.
Save Electrical Energy & Money: Electrical power system flaws can waste both energy and money. Rather than allowing this waste to occur, you can have an electrical check performed at your house or office by our electricians. Areas of electrical waste can be identified during this examination, and our electricians can provide remedies to help you save money on your utilities in the future.
Meeting Requirements before Property Selling: There are several things to consider when preparing to sell your property, there are many tasks to consider, from patching holes in the wall to cleaning. However, one duty that may be overlooked is ensuring the electrical work inside the walls is in good working order. While sellers may be able to check light bulbs, place switch and outlet faceplates, and have light fixtures swapped out, it takes an experienced electrician to perform an electrical inspection.
Trust Us For Your Electrical Safety Inspection & Surge Suppressor in DFW or Houston, TX
Every day, your family members at home depend on the quality of the electrical system for nearly every aspect of their daily lives. The same is true for co-workers at your office. It's important to schedule an occasional electrical safety inspection in Addison, Celina, Everman, Irving, La Porte, and other cities that we serve in the DFW & Houston areas. These inspections will determine if you need services such as Surge Suppression, Commercial Generator Installation & Repair, Electrical Troubleshooting & Repair, Ceiling Fan Installation, landscape lighting repair and installation, GFCI Repair, Outlets & Circuits Installation, and more. When you need our products and services, call us at 817-242-2826 or simply click here to schedule an appointment today!
Have a question about our services or how we can help with your electrical needs?
Cano Electric Services Dallas/Fort Worth & Houston