Electrical Troubleshooting Service in Dallas-Fort Worth & Houston
Your home's electrical system is one of its most important components. Because of extended daily usage, it will experience considerable wear and tear. When that heavy use causes electrical issues, you need to bring in a professional electrical troubleshooter to safely diagnose the source of the issues.
Fortunately, the electrical experts from Cano Electric have emergency crews that are available 24/7/365 when you need help troubleshooting an electrical issue at your home or offices. Simply give us a call at 817-242-2826 for electrical troubleshooting and we will provide an estimate. for your property in Addison, Barker, Katy, Baytown, Celina, and other Texas cities that we serve in both the Dallas-Fort Worth and Houston markets.
Get Repairs Done Right for Electrical Troubleshooting in Houston & DFW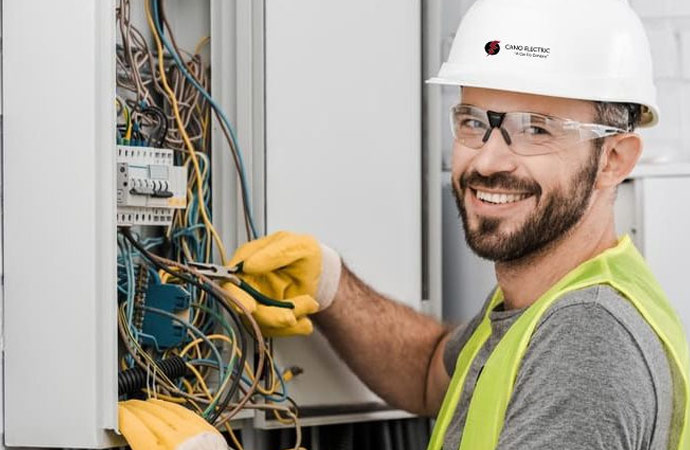 Before you buy a new ceiling fan to replace the one that is on the fritz at your home or office, make sure that you are not having an electrical issue in that part of your building. Many times, a quick round of electrical troubleshooting by the experts from Cano Electric can save you the time and expense of installing a new electrical device to replace one that still has a lot of life left in it.
If the problem turns out to be frayed wiring that poses a fire threat, you will discover an issue that needs immediate attention to make your home or office safe and secure going forward. With electrical troubleshooting by Cano Electric in Dallas-Fort Worth or Houston, you can find the true source of your problems and get it fixed permanently.
For years, we have set the standard for superior electrical services in cities throughout Texas. We serve Arlington, Webster, Kingwood, Frisco, and lots of other Texas cities in DFW and the Gulf Coast areas.
Get an Accurate Electrical Troubleshooting from your Cano Electric in Frisco, Plano, Katy, & Montgomery
When you are experiencing electrical issues, don't guess what the problem might be. Know it. Have the experts from Cano Electric perform some safe & effective electrical troubleshooting to discover the true source of the problem. With over 12 years in the electrical business, we at Cano Electric have the expertise to provide the quickest, most thorough, and most accurate troubleshooting available in the Dallas-Fort Worth Metroplex or the Greater Houston area. Our team also handles ceiling fan installation, meter base repair, breaker panel replacement, and more. When you need our help, call 817-242-2826 or contact us online to schedule an estimate.
Have a question about our services or how we can help with your electrical needs?
Cano Electric Services Dallas/Fort Worth & Houston