Lighting Installation & Repair Services in DFW & Houston
The foundation of every nice residential or commercial property is good lighting. Proper lighting sets the stage, adds ambiance, and increases space. Our highly qualified electricians at Cano Electric appreciate the importance of selecting the right light bulbs, lighting placement, and lighting strength. We offer the best lighting installation & repair services available in DFW and Houston.
Our lighting technicians in DFW & Houston are certified, bonded, and insured. We are also the proud recipients of the BBB and IEC Fort Worth awards, which attest to the high quality of our work and our customer service. Call us today at 817-242-2826 to know more about our services with free estimations!
Reasons to Rely on Our Team for Your Lighting Installation in DFW & Houston
We take the time to address your precise lighting requirements, schedule, and budget as a customer-focused business. We stock a diverse range of indoor and outdoor lighting and fixtures from well-known manufacturers. Before we begin some work, our team will always provide you with a price estimation that you must accept.
Our qualifications as a top-tier electrical business help us to partner with you in designing and implementing a lighting system that helps you to provide cleaner light at a lower installation and maintenance cost while increasing the value of your house.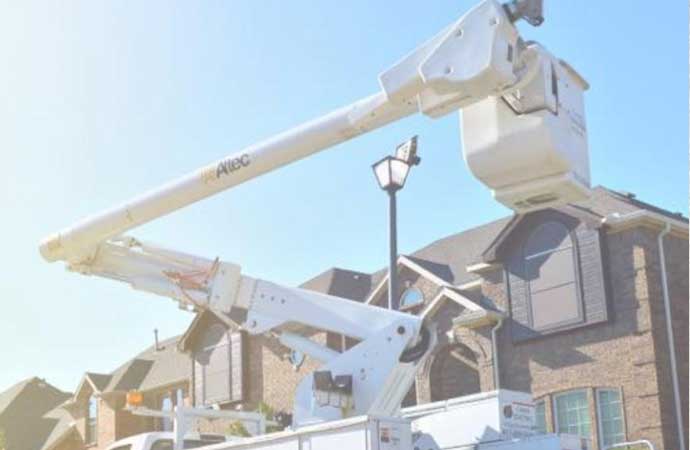 We promise a job done correctly the first time and a lifetime workmanship warranty. We also serve customers in Addison, Allen, Barker, Baytown, Celina, Dallas, and their nearby cities. Contact Cano Electric to learn more about our stellar lighting services. Our residential and commercial outdoor lighting repair services include:
Parking lot lighting
Spotlights and floodlights
Landscape lighting
Security lighting
Walkway lighting
Motion-sensor lighting
LED and HID lighting
And more
Have a question about our services or how we can help with your electrical needs?
Cano Electric Services Dallas/Fort Worth & Houston